Link to original post...
Hello 2/3 Class,
What does ANZAC Day mean to me?
When I was growing up, it was a tradition. My mother would take my two brothers and I by train into Sydney so we could watch my father march in the ANZAC Day march. He had been a soldier during World War II. After enlisting in the army and receiving his training, he was posted to Singapore with the 8th Division, 2/18 Battalion of the AIF (Australian Infantry Force).
The Japanese attacked the city of Singapore and, despite the defence by Allied troops including my father, General Percival, the British officer in charge of the Allies, surrendered to save the people of Singapore from further suffering. My father became a Prisoner of War from 1942 until the war ended in 1945.
My brothers and I would wait somewhere along the annual march route and try to be the first to see him coming. While I can't remember them, veterans of the Boer War (1899-1902) were in the lead but eventually the last was gone and a riderless horse with boots reversed in the stirrups represented them.
Next would come the veterans of World Way I. I had a Great Uncle (the uncle of my father) in that war but he never returned from France. I remember the WWI as proud and strong but in time, the last of them had passed as they grew older.
After them, the World War II veterans, including my father, would appear. When we finally saw him, my brothers and I would cheer for him and he'd smile and wave. Slowly now the number of veterans of World War II are dwindling. May father has now passed and few from his battalion are left. Had my father still been alive, he would have been 93.
Next would come veterans from Korea, Malaya, Vietnam (my brother had a friend in the Vietnam war) and other conflicts up to some veterans from the most recent conflict in Afghanistan.
For me, ANZAC Day, the Dawn Service and the march is a chance to remember my father, Great Uncle and others who served during wars. It's not a time to celebrate war. It's a time to remember the tragedy of Gallipoli back in 1915. Imagine, the founding of the ANZAC legend will be 100 years old in 2015.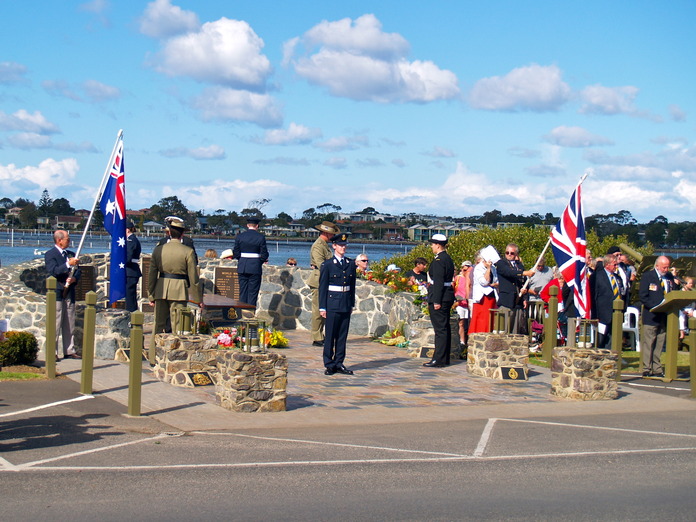 Schools and students have permission to use this graphic for non-commercial, educational purposes.
The ANZAC ceremony in my town.
Did you know the last Australian veteran of Gallipoli was Edward (Ted) Matthews? He was born on 11 November, 1896 and passed on December 9, 1997. I remember seeing him interviewed on television once. People were interested in the last Australian survivor. He was told he was a real hero by the reporter.
I still remember his response, "Why? I just lived longer than the others."
What an incredible Australian.
Ted Matthews

@RossMannell