Click below for link back to Mrs. Yollis and her class's original post...
Dear Mrs. Yollis and class,
Science is one of my favourite subjects. Okay, you probably know just about any school subject is a favourite of mine. It comes from being interested in so many things but science (zoology) was my study at university before I trained as a primary (elementary) teacher.
Light is fascinating. Light is a form of energy. Our very bodies have energy down to the atoms making us up. It's the way our senses interact with the energy that allows us to see, feel, touch, taste and hear.
At first I was wondering if the students might try to trick you by using chemicals to make unexpected colour changes. Here's a You Tube link to show how this might be done.
I can see they were very careful about their demonstrations so you were able to predict what colours would result.
Below is a colour diagram I created for you. There are three primary colours in light (red, blue and yellow). Mix equally any two primary colours and you will get a secondary colour (purple, orange and green).  Mixing different amounts of primary or secondary colours can make all of the colours we see. Black is the absence of light whereas white light has all three primaries (which is why a prism can refract white light to show colours and we see rainbows when water droplets refract sunlight).
Schools and students have permission to use this graphic for non-commercial, educational purposes.
We use our eyes to see but do we all see the same? I suspect, being individuals with our own eyes, we don't see colours in exactly the same way as others. I think there are slight differences but we learn what we see is red or blue, etc. If you could see through someone else's eyes, the world might look a little different. What do you think?
I heard you all say light travels in a straight line. I don't say light travels in a straight line. I say something a little different if asked…
Light travels in as straight a line as space allows.
The idea comes from Albert Einstein and his general theory of relativity (big words to explain how things work).
Have you heard of gravity? If we jump up, we are pulled back down by gravity. If you could jump high enough, the Earth's gravity wouldn't be able to pull you down but it would have to be a massive jump. Einstein's theory tells us space is warped (bent out of shape) by gravity. While light travels in straight lines, the "lines" in space are bent.
Does that sound weird? I know it can be hard to get our minds around so I used a striped shirt and a round rock (geode) from my rock collection. Look at the picture below.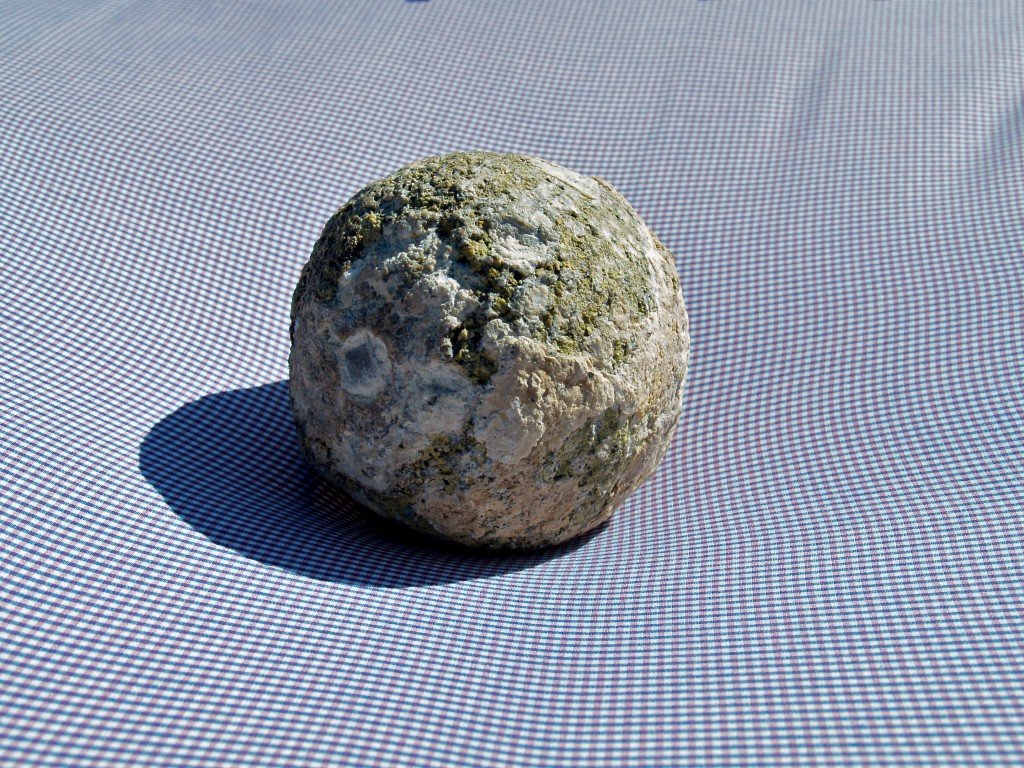 Schools and students have permission to use this graphic for non-commercial, educational purposes.
Can you see how the stripes on the shirt are pulled inwards and the shirt has bent down under the weight of the rock? If light was the stripes, it would travel in a straight line but space is warped ("bent"). We know this is true because, in a total solar eclipse (where the moon blocks the sun), we can see stars slightly behind the sun. The sun's gravity has "bent" space so light appears bent.
I know the idea is hard to understand but it's one of those fascinating things about our world. I'm not an expert in science but have fun thinking about it. I always hope I get my facts correct. 🙂
Have a great winter break. I look forward to your shared learning adventures in 2013.
@RossMannell
Teacher (retired), N.S.W., Australia