"Our World, Our Numbers" is a mathematics collaboration project involving 7 classes in 5 countries. The first post was from 4KM and 4KJ in Australia
Dear 4KM and 4KJ,
A second of your posts for 2013 started me thinking in different directions again.  Did you know when I was your age I used different Australian money to what we have today?
When I was your age, we used pounds, shillings and pence, not dollars and cents. I have some pictures of the money down below. There was also a £10 (10 pound) note but I don't have one in my collection. While we aren't allowed to copy our modern money, I think these are okay because the last time they were used was in 1966.
You can click on the pictures to enlarge them.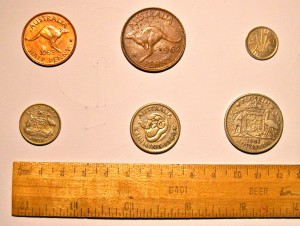 From left to right...
TOP ROW
half penny (ha'penny) equal to about half a cent
penny equal to about 1 cent
Three penny - 3d (thrupence) equal to about 2.5 cents
BOTTOM ROW
Sixpence equal to 5 cents
One shilling - 1s equal to 12 pennies and became 10 cents
Florin - two shillings equal to 24 pennies and became 20c
10 shillings - half a pound - 120 pennies - became $1
One Pound - £1 - 20 shillings - 240 pennies - became $2
Five Pound - £5 - 100 shillings - 1200 pennies - became $10
There was a 10 pound (£10) note but I don't have one in my collection. It became $20.
When these pounds (£), shillings (s) and pence (d) were in use and I was your age, my father earned about £20 (20 pounds) a week. That was enough to make payments on the house and car, buy clothes and groceries, save some and go on holidays. That is $40 in today's currency. My pocket money was 1s (one shilling or ten cents) a week. Prices were much lower than today but we earned much less. The money shown above would have been about one third of my father's weekly pay yet it was only £6/13/10 ($13.38). Click below to hear how the money was said...
On the 14th February, 1966, Australia started using decimal currency. We had 6 types of coins and 5 notes. At that time, all notes were paper and not the plastic we use today.
Coins:  1c, 2c, 5c, 10c, 20c, 50c
Notes:  $1, $2, $5, $10, $20
Here are pictures of the 1c and 2c coins plus $1 and $2 note no longer used. Australian coins have the face of the ruling monarch on the opposite sides, i.e. Queen Elizabeth II since her coronation in 1952.
1 cent and 2 cent coins
$1 note
$2 note
Australian Decimal Money Timeline
1966 - Decimal currency introduced on February 14
1973 - $50 note introduced
1984 - $1 coin replaces the note
1988 - Australia's first polymer (plastic) notes appeared
1988 - $2 coin replaces the note
1992 - 1c and 2c no longer officially in use
1996 - $100 note introduced
Money Links
* Schools and students have permission to use the graphics on this post for non-commercial, educational purposes.
None of the notes shown are now legal tender.