A student was learning about Australia and shared some facts and questions. Enjoying reading what was shared, I thought I would provide some information. To see the original Google document...
Looking at the Facts
Here is a summary of information based on your Google document. If you scroll down to "About Australia" on this post, you can read some of the information used to find answers and facts.
There are six Australian states.
The first known Europeans came to Australia arrived in 1606 although the Chinese may have come in the 1400s. People from Indonesia and may have arrived much earlier and the Aboriginal people first came here as much as 60,000 years ago.
Western Australia is our largest state.
There were many language groups in Aboriginal Australia, each with their own cultures. They didn't have tribes like Native Americans.
Australia is the largest island and smallest continent. It is the only continent to be one nation.
Australia has a number of states and territories.
Australia borders the Indian, Pacific and Southern Oceans.
Australia is an island and not landlocked. Landlocked means no access to the sea.
Australia'c capital city is Canberra in the Australian Capital Territory. Each state and territory has its own state/territory capital.
Your questions.
- What are these "parts" called? - The main part of Australia has six states (Western Australia, South Australia, Queensland, New South Wales, Victoria and Tasmania)and two territories (Northern Territory and Australian Capital Territory).
- Why are they so big? - Our states are large because of the arid and semi-arid areas, a much smaller population than the U.S.A. and finding most people live along or near the coast.
- How did they name them? - Northern Territory, Western Australia and South Australia were given their names because of their location. Victoria and Queensland were named in honour of Queen Victoria. Tasmania gained its name from the first European explorer to reach it Abel Tasman. New South Wales was named by Captain Cook. It's said the coast reminded him of parts of Wales in the United Kingdom.
- Who decided to split this country? - The country wasn't really split. Areas gained their names as new colonies were established.
- Who did this? - Each state had a governor representing the king or queen and a government. In a way, each state had been its own country and could set laws.
- How did this happen? - With all the states agreeing after many meetings of state leaders, Australian became a commonwealth and nation in 1901.
- Is it because a historical feature that slowly split them? - The historical feature was colonisation. With large distance between colones, it was better for each colony to control its own area while officially being governed by the king or queen through a governor.
- Was it because of a war? - Australia became a nation by agreement and not war. The English crown also approved Australia becoming a nation.
- When did this happen? - The first British colony was founded in 1788 in an area of Sydney near the now famous Sydney Harbour Bridge. The second colony was established was Van Diemans Land (later Tasmania).
- Why did it happen? - When there was only one colony, the east of Australia and New Zealand were all in the colony of New South Wales. As new colonies were formed, new borders were drawn up and New Zealand separated from New South Wales. Federation in 1901 came about because the states decided they should all be part of one nation.
- When was this discovered? - The borders in Australia were made using rivers or latitude and longitude readings. The changes all came about over time so there was no great discovery.
Read on to see more information on Australia plus links to other blogs.
About Australia
Here is a map of Australia I have drawn...
The main part of Australia has six states (Western Australia, South Australia, Queensland, New South Wales, Victoria and Tasmania)and two territories (Northern Territory and Australian Capital Territory). It also has jurisdiction over Cocos (Keeling) Islands, Christmas Island and the Ashmore and Cartier Islands in the Indian Ocean and the Heard and McDonald Islands in the Southern Ocean.
The map also shows the capital cities of each state or territory. Canberra is our national capital.
Australia is said to be the world's smallest continent and the world's largest island. Any land mass larger is a continent and any small an island. It's the only continent that is one country. Much of it is arid to semi-arid (desert to very dry areas). You can see on the map cities tend to be near the coast or the wetter eastern coast.
Another student was interested in the "outback" and wanted to know if I'd been there. If you're interested, click the link below and you will see information about a 1985 trip through the Australia's centre.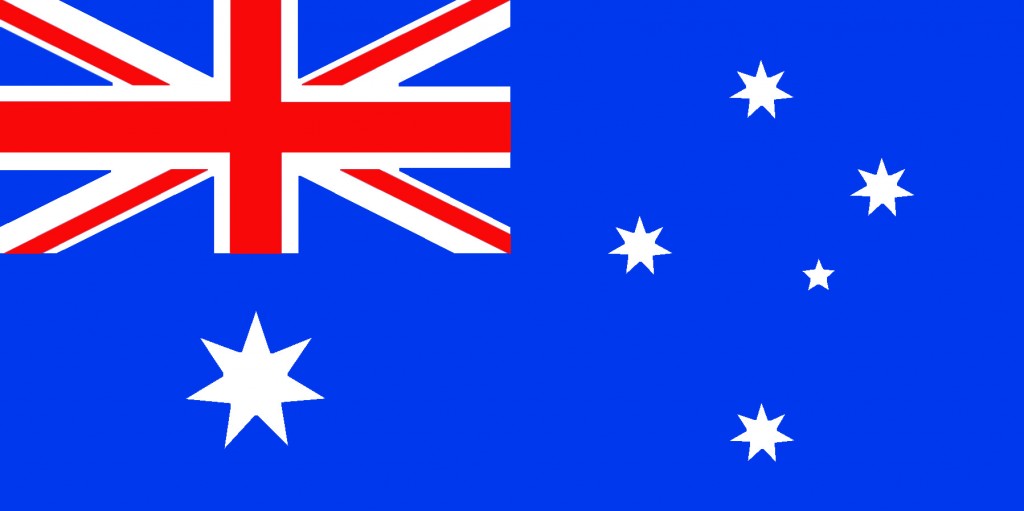 The Australian flag has three major features on a blue background. In the top left hand corner, there is the Union Jack as in the Union Flag of the United Kingdom. The large, seven pointed star under the Union Jack is known as the Commonwealth Star. Six points are for the six states and the seventh is for Australian territories. The five stars at the right represent the Southern Cross (Crux to astronomers). It's always in our sky.
The First Australians
Firstly, it's thought the first Aboriginal people came to Australia from Asia up to 60,000 years ago. At that time the world was cooler and sea levels lower because a polar ice. The islands of Indonesia would have seemed closer because the low sea levels meant coasts were further out. It was possible to walk across dry land from New Guinea to Australia and from the state of Victoria to Tasmania.
Much of Australia was forested with lakes. There is evidence, particularly around the dried lake bed known as Lake Mungo, of thriving people living along its shores. As climate warmed, the land links to New Guinea and Tasmania were covered with water as they are today. Australia's centre started to dry. Forests and lakes disappeared and the Aboriginal people adapted their habits to live in the arid and semi-arid conditions.
This photo is of Aboriginal art on Uluru (Ayers Rock).
Rather than one tribe, there were many language groups. The Aboriginal people didn't really have tribal groups as the Native Americans have. My area of Australia is Yuin land. There were many language groups and different beliefs across Australia. Each were rich in culture and belief. Click on this link to see the Aboriginal Australia map.
To find out more about Aboriginal Australia, here is a link to a post I wrote for a class looking at Australia's original people...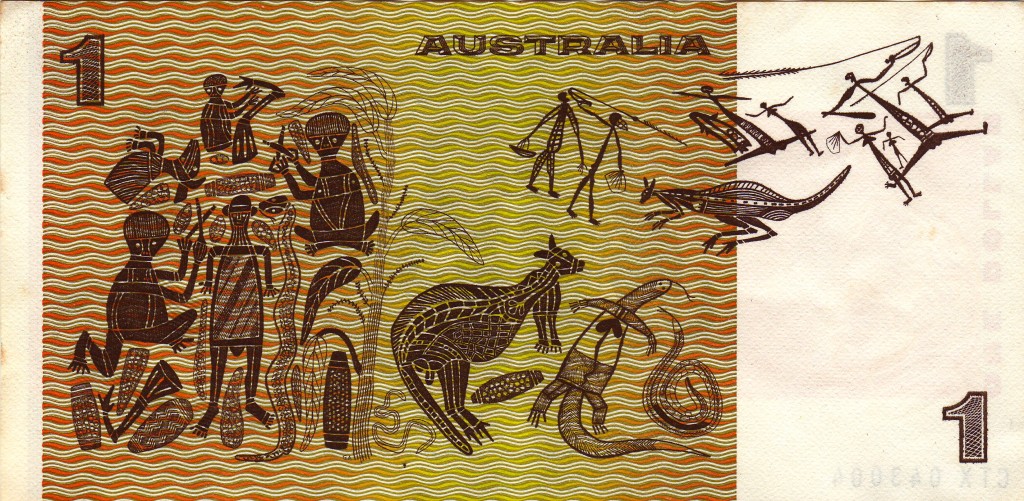 This is one side of Australia's dollar note showing Aboriginal designs. It has now been replaced by a coin.
Chinese and European "Discovery"
 I've always thought it a little strange when people speak of who discovered Australia. Surely that claim could only go to the first Aboriginal people coming to Australia fifty to sixty thousand years back. Who else "discovered"Australia?
There is apparently some evidence Chinese explorers as early as the 1400s. Between 1405 and 1453, a Chinese admiral sailed a huge fleet of junks south to Timor and so could well have visited Australia.
Here are some of the first known Europeans to make it to Australia were...
1606 William Jansz on the "Duyfken" saw the coastline of northern Australia
1616 Dirk Hartog on the "Eendracht" landed on Western Australia's coast
1642-1643 Abel Tasman reaches Van Dieman's Land (Tasmania)
You might have noticed the names are Dutch. The western area of Australia became known as "Hollandia Nova" (New Holland).
The first known Englishman known to have reached Australia was WIlliam Dampier in 1688. He also only reached the west coast of Australia. It wasn't until 1770 before the first European sailed along Australia's east coast.
Captain James Cook's 1769/1770 Voyage
Below is a photo of the H.M.B. Endeavour taken at Twofold Bay, in 2012. It is a replica of James Cook's H.M.S. Endeavour and visited Twofold Bay near my home. If you look at the background, little would have changed since Cook's voyage nearly 250 years ago.
To read more about this replica ship, click on HMB Endeavour at Eden.
In 1769, Captain James Cook set sail from England on the "Endeavour". His task was to take scientists to see the transit of Venus from Tahiti in the Pacific Ocean. His other task was to solve a mystery. Many had thought there must be an undiscovered continent south to balance the world's countries up north. Some maps named it Terra Australis (Southern Land). Cook was given the task of once and for all time showing no such land exists.
After heading south from Tahiti, he came to New Zealand in 1769. He mapped the islands before heading west. He first sighted Australia in 1770 at a place named Point Hicks a few hundred kilometres to the south of my home. He made maps of the land as he sailed north, naming it New South Wales.
New South Wales and a British Colony
At this point in Australia's history, the history of the United States overlaps ours. I'm certain you know the importance of the year 1776 for the U.S.A.. When England lost its American colony, they were looking for another place. English prisons were overloaded with convicts and couldn't be sent to America. It was decided to send a small fleet of ships to the land described in Cook's voyage.
On January 26, 1788, the English flag was raised in the new colony of New South Wales. At this point, New Zealand was also part of New South Wales.
1825 - the border with New Holland had moved to where the Western Australia border now lies. Van Dieman's Land (Tasmania in 1856) became a separate colony.
1829 - New Holland becomes known as the Swan River Colony and Western Australia in 1832.
1840 - New Zealand is no longer part of New South Wales, and the colony of South Australia is formed although it isn't until 1860 when South Australia has the borders we see now.
1851 - The colony of Victoria is formed.
1859 - Queensland is formed as a colony.
1901 - The Commonwealth of Australia is formed by the member states and Australia becomes a nation and not a collection of colonies.
1911 - Federal Capital Territory (Australian Capital Territory in 1938) and Northern Territory are formed.
Each of Australia's states started out as a British colony with their own government, money and banks. With federation in 1901, the states had agreed to join as a commonwealth. There wasn't a war between our states. Our political system is based on that of the United Kingdom. We have a Prime Minister rather than a president and Queen Elizabeth II is recognised as our head of state with a governor-general her representative here in Australia.
Until 1984, Australians sang "God Save the Queen" at official events, the same national anthem as in the United Kingdom. In 1984, "Advance Australia Fair" became our official national anthem. Click on the title below to hear a choir of about 100 sing our national anthem.
Our states are large because of the arid and semi-arid areas, a much smaller population than the U.S.A. and finding most people live along or near the coast. The largest U.S. state by land is Alaska at 1,481,347 square kilometres. With Western Australia being 2,526,786 square kilometres and Queensland being 1,723,936 square kilometres. Alaska would only be the third largest if it were part of Australia.
The area of United States is about 1.3 times larger than Australia yet the U.S. population is nearly 14 times larger than Australia. We have much more space but few people live in much of Australia because of its harsh climate.
To see more links to Australian information as well as video clips of Australian animals, click the link below...