For the Battalion Hawk Blogger's original post, click below...
Hello Battalion Hawk Bloggers,
It has been some time since I last left a comment on your blog. I have spent a great deal of time converting and compressing old VHS videos I've made over 30 years of filming. I'd also decided to scan 1000s of photos and negatives either my family or I have taken over the years. While I still have over a 1000 negatives and still more old slides to go, I had to return to blogs and have been catching up with the world.
What a wonderful face on the first photo on your post! Some of the farms in my region have alpacas for their wool. Below is a photo of a young female I met at our local country show.  She was very gentle if not a little nervous if too many people were around but she didn't mind children stroking her fur. "What's NOT to love about these ADORABLE and VALUABLE alpacas?" how true are these words. 🙂

Schools and students have permission to use this graphic for non-commercial, educational purposes.
"A goal without a plan is just a wish."
Antoine de Saint-Exupéry (1900 - 1944)
Pilot and author (including "The Little Prince")
It seems some people think planning is just a matter of setting a goal and then hoping it comes about but I see you understand a goal, in order to be more than a wish, needs a plan. Of course we can't achieve if at some time we don't set our plan in motion. We see the goal and must set in place the needed steps along the way. Having seen the outstanding efforts of Global Grade 3, I know the Battalion Hawk Bloggers will work hard to continue what I think may be becoming a Battalion Park tradition.

Schools and students have permission to use this graphic for non-commercial, educational purposes.
AJ

– I can easily see your excitement at starting a new project. I think your idea to collect clothing is very thoughtful. It would indeed be very cold in the mountains during winter.
Chelsea

– You understand the need for continued support of a good project. Projects, once set up, can need more support to keep them fresh and new in the eyes of the people.
Joyce

– Fund-raising is an important part of many projects. With all of the best intentions and plans, we at time need to be able to purchase needed materials. You understood a problem in the library project, the need to have someone operate the library.
Lauren

– Beginner books would be a very good choice. If the young learn to read, they can pass their skills on to their children when they become parents. One generation builds upon the previous as reading grows.
Tre

– It's true, reading can help people gain a better job. It can also open people up to the world and, as you say, provide entertainment.
Nick

– We can take warm clothing for granted but when you have little warm clothing may not always be available.  Your idea is a good one.
Amro

– What a wonderful idea. Art supplies would allow the children to express themselves artistically whereas maths can allow the children to manage money. Wouldn't it be amazing to know one of the children you have helped eventually went to university? I wonder what they would choose to study?
Jayden

– A librarian cannot only bring order to a library, they can pass on skills in research and the care of books. They could train children to help in the library.
Dimitri

– Very true, Dimitri. The books not only help you read, they can show you how to write.
James

– Warm clothing would most certainly help the children when the weather is cold. Around my town and at the beach many people wear sandals we call thongs (picture below). Others call them flip flops or jandals. While they're great in summer, I don't think I'd like to wear them in winter.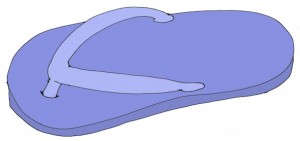 Schools and students have permission to use this graphic for non-commercial, educational purposes.
Tommy

– Imagine how hard it would be if your school only had 42 books. I think adding more choices is an excellent idea.
Elijah

– Collecting clothing is a very good idea. As you are now moving towards spring, Peru is entering autumn (fall). It's a good time of year to collect unwanted warm clothing.
Chris P

– Collecting books is a great idea. They would have to mainly be in Spanish as that is the official language of Peru. English books could also be sent if any children wanted to learn English. ¿Habla usted español? I'm afraid I don't speak more than a few words of Spanish.
Tyler

– Can you imagine the Peruvian children learning to read and write then sharing some of their traditional stories with your class? They might eventually be able to write books of their own.
Christopher

– With books to read, sending art supplies and maths equipment would fill a gap in resources for the children. Like people in your school, there may be children with an interest in art or maths but lack the equipment.
Ben

– I like your idea of expanding options. Learning materials for reading, art or maths are always good but perhaps you were suggesting sending some sports equipment or hobby materials.
Rayann

– I can imagine the books in their library would be in Spanish, their national language. Imagine being able to translate some of your favourite stories into Spanish.
Rebecca

– With all of the options being of great value, I can understand why I have seen different people choose each option. Whichever is decided, the next move would be working out how as a group to put a plan into action.
Which option would I choose? While all are valid, I would probably choose a part-time librarian to help them make use of a resource already there.  Perhaps the librarian can show them books on how to make warm clothing and sandals or maths equipment and art supplies.  Whatever is chosen, the future will be better for your efforts.

Schools and students have permission to use this graphic for non-commercial, educational purposes.
Walking alone, the journey is hard but together we can achieve greatness.