To visit Global Grade 3's original post...
+ + + + + + + + + + + + + + + + + + + + + + + + + + + + + + +
Hello Global Grade 3,
It has been some time since I last contacted you through your blog. I spent nearly a week transferring all posts from one blog to a new one. "Extended Comments for Students" had been on a blog provided by one company but, if rumours are correct, it will shut down some time in the not too distant future.
Here are links to the posts I've already sent but on the new blog….
Now I am trying to do a little catching up on the tabs of various student/class blogs awaiting a comment.
+ + + + + + + + + + + + + + + + + + + + + + + + + + + + + + +
Bucket Fillers and Change Makers!
What an interesting idea! The invisible bucket we carry seems almost magical. If you think about it, it is the only bucket that is heaviest to carry when it's empty. When it's full of good thoughts and feelings about ourselves, we carry it as though it's lighter than a feather. The world is a joy and anything can seem possible yet, when it's empty, normal things in life can seem so hard to carry.
What amazing buckets they are.
Damian, Brenden, Natasha and Mya

– I have heard of people believing in ARKs (Acts of Random Kindnesses) in this way. Some have paid in advance, others have placed money in envelopes and, while a shopper wasn't watching, dropped it in their shopping trolley. On the envelope, they simply explained it was an ARK and they simply wished to bring smiles to a stranger's face.
Kaylee, Jesse, Julia and Zahra

– There are few better gifts than the gift of reading. When we help people learn to read or explore books, we open up a world of imagination and information. Bob's bucket must be close to full just by this one act.
Elijah, Eric and Alexia

– Hannah shows us we can achieve even when still quite young. It only takes the will to try and the idea to achieve. Like Hannah, I find ladybugs interesting. They are great little hunters keeping aphids off plants.
Tormod, Henrik and Martin –

The man's solution to the lady's problem shows us we don't need to plan ARKs, we can help with creative solutions and what we have at hand.
Sophie H., Ava and Rijul

– Cathy's Café 180 is a remarkable business where she not only fills her bucket but gives people the opportunity to fill their buckets. It is a wonderful gift to help others help others.
Larissa, Galen and Jun

– The man saw a need in someone who could afford little and set out to help without giving her the chance to be embarrassed by meeting the helper.
Zack, Max, Thalia, and Sophie G.

– What a gift. Flowers can brighten the day with colour and scent. I can remember hearing about a man who carried a simple sign. It said, "FREE HUGS." Believe it or not, men and women came up to him for a free hug and left with a smile. Others looked on and smiled as well. We might have to be careful offering something like this but we can do little deeds to help others smile even if it's simply sharing a smile.
Mayor Nenshi seems to be a person who recognises what we can achieve on a big scale when many of us are willing to spend a small amount of time. I'll share something on a bigger scale with you...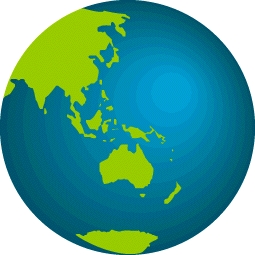 Clean Up the World
Have you heard about the
"Clean Up the World"

campaign? Let me share a little history with you.
In 1987, an Australian man named Ian Kiernan entered a solo around-the-world yacht race. As he sailed his yacht, he was shocked and disgusted how much pollution and rubbish was in the world's oceans and seas, particularly the Sargasso Sea in the Caribbean.
He wanted to do something about it so he carried an idea back to Sydney with him. What would happen if he organised a "Clean Up Australia Day"?
In 1989, his advertising for the first "Clean Up Australia Day" came about. He found 40,000 people came out to help clean up Sydney Harbour, his first goal. They found "rusty cars, plastics of all kinds, glass bottles and cigarette butts were removed by the tonne".
In 1990, "Clean Up Australia Day" attracted 300,000 volunteers and has continued to grow throughout Australia. The clean up now occurs in waterways, roadsides, national parks, or anywhere there is a group of willing volunteers. Many schools in Australia also join in as have I.
The next step was to take it to the world. Ian and co-founder Kim McKay gained support from the United Nations Environment Programme (UNEP) and the first "Clean Up the World Day" was launched in1993. 30 million people in 80 countries took part.
A simple thought by one man to clean up our waterways has grown in to an international movement. How's that for an ARK?
Here is a link to the "Clean Up Australia" website…
And here is a link to the "Clean Up the World" website…
+ + + + + + + + + + + + + + + + + + + + + + + + + + + + + + +
I had better finish this extended comment here as I can see you have another newer post for me to read, "Pennies for Peru". I may be working on another extended comment soon, but not now as it's after midnight down here.
May all of your invisible buckets be so full they overflow and help fill the invisible buckets of others.
@RossMannell